Best PS4 Controllers 2018
 
Most of the controllers I am listing are going to be for First Person Shooter (FPS) video games like Rainbow Six: Siege, Call of Duty, Battlefield, Destiny, etc… Racing games have very specific controller functions that are ideal for simulating a gas pedal or turning a steering wheel. Some of these controllers like the HORI FPS do not have spring triggers, but only button triggers. This is great for shooters because you don't have to pull the trigger down all the way to fire your weapon, but this is horrible for racing games because you will never reach the full acceleration needed by a spring trigger.
 Before We go over the list:
BestGameSetups does not just write about the best game setups and items that help  complete your setups.  We also produce certain products that we hope can help make your setup the best.  In terms of controllers, BestGameSetups offers two wires.  The first wire is a micro USB to micro USB OTG (On-The-GO) wire.
This wire was specially designed to for gamers to use their PS4 controller on their favorite android device.  Please note that this only works if you have an android device with OTG capability.  You can google your device name and OTG to find out.
The second wire that BestGameSetups offers for controllers is a high quality thick, but short quick charge cable.
The cable has two separate lines inside.   The first line is a thick (24 awg) wire for a faster charge. The second separate line is a standard (28 awg) wire for uninterrupted data transmission.  We believe this to be one of the best wires you can use with your PS4.
Now for the Best Controllers for the PS4:
Cinch Gaming PS4 controllers: $54 – $260 (Promo Code: cinch522)

When it comes to Scuf and Cinch it's the difference between paddles and buttons. The Cinch controllers offers 2 or 4 buttons on the inside of the handle part of the PS4 controller, whereas the Scuf controller has 2 paddles on the back of the controller. Cinch does give you the option to have an extra 2 buttons that can be remapped to 4 standard buttons of Triangle, Square, Circle, and X. In terms of which is better, it almost comes down to preference except for a few other considerations. Buying a brand new cinch controller can range from $120 to $260 depending on the features that you select. The high-end Cinch modifications feature the ability to remap your keys by using an app on your phone. The app will also record your key presses for you to review or share later. Gamers can also send in their own controller to have it modified to your liking for $54, whereas Scuff charges slightly more no longer offers this option. Cinch has the edge here because you can send in the new PS4 controller (See Below), which significantly decrease latency by allowing a wired connection. In addition, Cinch recently updated their site to allow you to customize the new PS4 controller on their site for $124. Scuf has not listed or shown pictures of the new PS4 controller. Therefore, in terms of latency a cinch controller would have the edge. However, most likely in the near future Scuf will start adding the new PS4 controller to their inventory for modification. Lastly, I added a promo code that will take 5% off your purchase.  Just enter: cinch522 at checkout and your 5% off apply.
Scuf PS4 Controller: $124 – $256 (Promo Code: LOYALSCUF)
Scuff would be listed as the first controller on this list if it still allowed players to send in their own controllers and/or if they mentioned use of the new PS4 controller. I say this because Scuf is the most widely used controller by professional E-sport players. Their controllers are solid and well tested, but all users do complain about a learning curve when first using them. However, I believe their will be a learning curve with all controllers listed on this page. Once again, this will all come down to a preference. Scuf controllers can be remapped using their special magnetic key. This is good if you switch games and need to change the function of the paddles. I do like the customization available on the Scuf site. You really get to make the controller feel like it is yours. In the future when Scuf does start incorporating the new PS4 controllers it will come down to preference when you trying to find the best controller for you.
Nacon Revolution: $89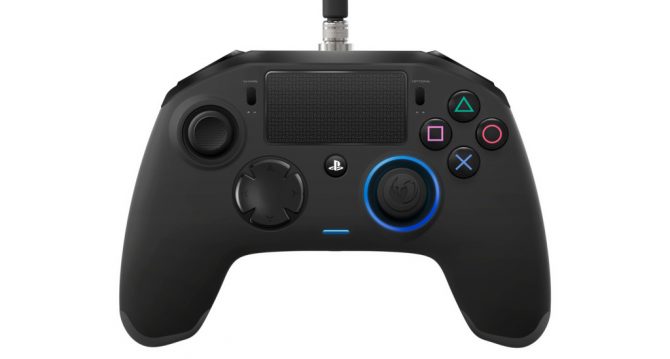 This is another wired controller.  The controller has 4 extra buttons instead of triggers or paddles and has the asymmetrical thumb stick style like the Xbox controller and the HORI PAD FPS.   The extra buttons have a different configuration then Cinch controllers and this setup may be more ergonomic, but it will be some time until we know for sure.  You can change out certain parts of the controller including the triggers, thumb sticks, and D-pad when trying to find best fit for your play style.  This price is based off of what they sell for their Alpha Pad on Indiegogo, which looks just like this.  I doubt they would charge more than Razer as they have more brand recognition and trust from consumers.  It will take some time until we know, which is the better controller.
Battle Beaver Customs: $37 – $260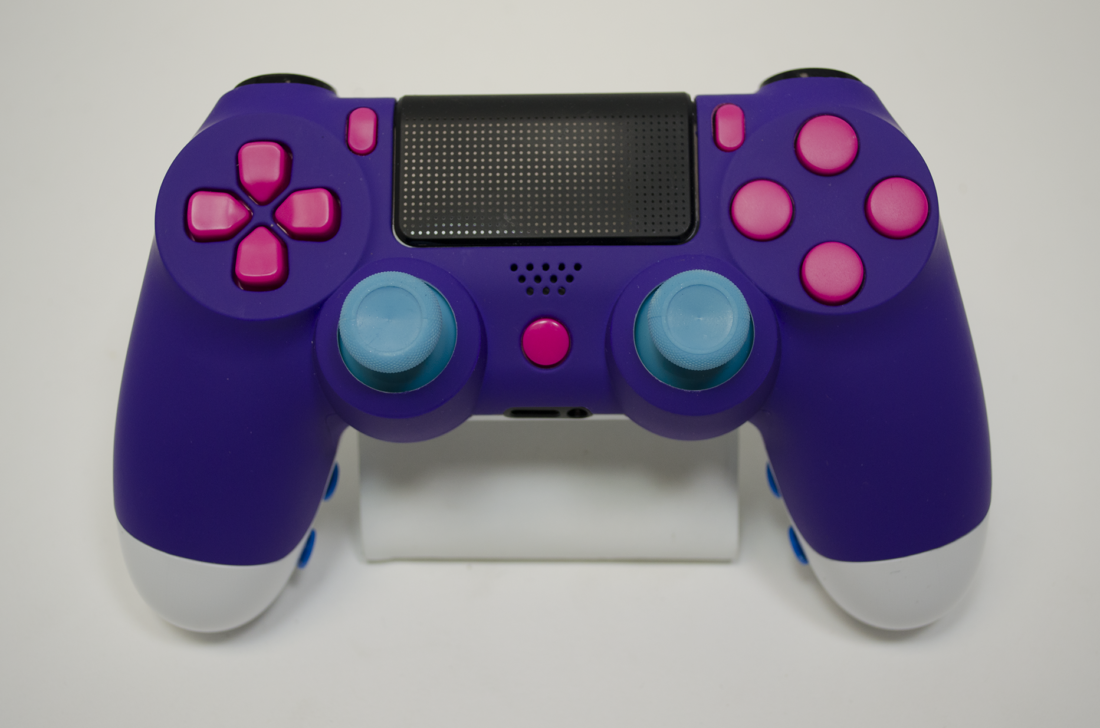 I will have to admit I am having a hard time deciding between this and the Cinch controllers for the top spot. For starters, BBC offers more customization options than Cinch and Scuf. They allow you to choose where you want your buttons to exist on the controller and how many buttons you want. You can change the tension on your thumb sticks to be more sensitive. You can select a different type of bumper buttons. Scuf, Cinch, and BBC all offer different types of trigger buttons. You can also send your own controller in for upgrades for a cheaper price when you include shipping fees vs Cinch send-ins.  BBC no longer allows you send in new controllers to be customized.   The only downside to BBC is that the build time can last from 6-8 weeks, whereas Cinch suggests 3-4 weeks.  If you want to go this route I suggest Cinch.  I sent in a controller in early December and I have yet to receive it as of Late January.  I have since received my controller, but the wait was brutal so be aware.  Cinch also has the edge with allowing you to remap your buttons from your phone.  BBC does offer the ability to have your buttons to be remapped, but it's unclear from their site how this is achieved.  If you are going the send-in route than I think BBC may be the better choice, but if you are going to buy a brand new controller than I think you should purchase a Cinch controller with their special mapping chip.  You can always send it in to BBC later to be modified.  They accept controllers that have been modded by other companies like Cinch and Scuf.
PS4 Jet Black: (CUH-ZCT2): $48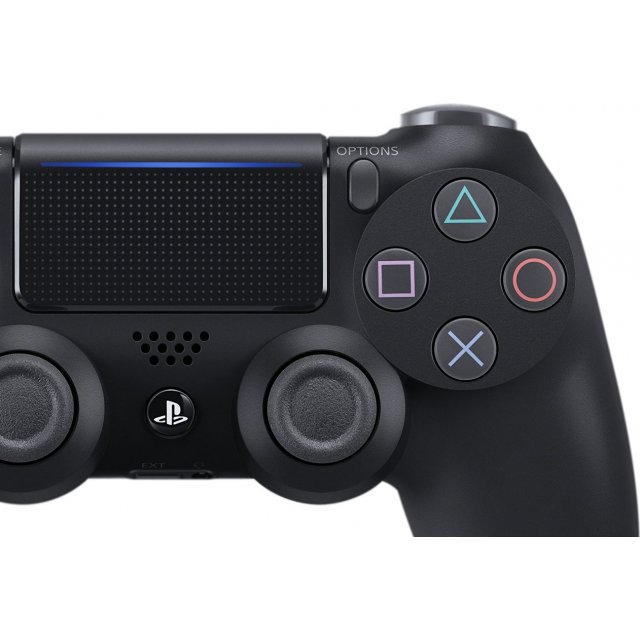 This is the newest edition of the PS4 DualShock 4. It comes standard with the new PS4 Pro. This device is listed on the list because it finally solves the problem of input lag from wireless controllers. All previous PS4 controllers only accept input from a wireless connection even if the controller is plugged into the PS4. This controller is nice way to improve your skill by significantly decreasing your latency. Also, after you used it for awhile you can send it in to cinch or another controller modification company to have the extra buttons added to your controller. You can easily tell the difference between the new PS4 controller and the old ones, because the new controllers will have a light bar on top of the touch pad. If you do not care about decreasing latency or if you know you will always user your controller wireless then your good luck, because this controller should be driving down all the other prices of the old PS4 controller.
Horipad FPS Plus: $49
I think the biggest draw to this controller is it's asymmetrical thumb sticks, which is similar to the Xbox Controller. If you are an old Xbox player who switched over to PS4 and is looking to have that asymmetrical thumb stick style, than this control is for you. However, please note that this controller and the next few mentioned below differ from the above 2 because they will not have native wireless support. This may not matter to you if you are purely going for a competitive controller, because then you will just keep your controller plugged in at all times. For people who may not use their controller solely for competitive gaming they may want the freedom of a wireless controller or at least the option to go wireless. The Horipad FPS will actually be completely wired. This is the first 3rd party controller to support the PS4 touch pad. It has an extra button underneath the controller that can be easily mapped to any other button, but by default the button will change the sensitivity of the right thumb stick. This is similar to how some gaming mice allow you to change DPI by pressing buttons near the scroll wheel. A player would most likely change the sensitivity when changing between sniping and hip firing.
EMiO Elite Controller: $89
This is a new 3rd party controller that looks to be promising. It features 4 back paddles that are removable and the ability to easily switch the D-pad and joysticks for more competitive options. Just like the Cinch and Scuf controller, users can adjust the trigger sensitivity of their L2 and R2, which will allow for faster response and less finger fatigue fire rate. This controller can be used wireless, but it requires the use of a USB dongle. EMiO is a new brand when it comes to controllers and that's why the Horipad FPS beats it. HORI is a well known controller company that has been tested and true. The EMiO is too new and too unknown to get a top spot, but that doesn't mean that it couldn't be one of the best PS4 controllers available. If you can pick this up on a deal, I would definitely give it a try.
Razer Raiju: $149
I will have to admit.  I am very excited for Razer to be making a PS4 controller.  It's too early to tell if this is a controller to overtake the top spots on this list.  There have been some reports of bad builds, but there have also been a lot of good reviews.  Unless you are dying to have your mic buttons on your controller, this controller is a hard sell at $149.  You could easily pick up a custom controller like Scuff or Cinch for below that price.  This controller will be using two extra bumpers and two paddles (triggers).  It will also feature mic control features built into the controller, but this may not matter for people using wireless headsets or an external sound card like the ones found on another BestGameSetups post here.
Xim 4 – Keyboard and Controller Adapter: $149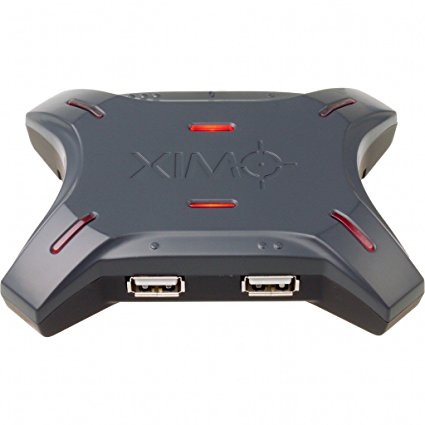 The Xim4 allows gamers to use almost any controller, keyboard, and mouse with their PS4. It's also easily setup and precisely configured all from your mobile device. The best combo I have seen used with the Xim 4 is a Playstation Move controller and a mouse. You get the aiming accuracy of the mouse with the precise movement control of a thumb stick. The only downside is that it's an extra device between you and your PS4, thus naturally there will be some extra latency. However, if you are looking for a serious edge against controller players, then your aiming will still be superior even with the added latency. Please note that if you do go competitive it is unlikely that your skills will transfer back to controller and you most likely won't be able to take your keyboard with you to any tournaments.
Hori TAC Pro – Keypad and Mouse: $149

This is a brand new product from HORI. Unlike the Xim4 you are getting a direct connection to your PS4, but you can only use the HORI keyboard and mouse and none other. That is because this is all wired. I feel that this minimizes any input lag that one may find with using an adapter to connect a keyboard and mouse to your PS4. This has the same downsides that come with using any keyboard or mouse with the PS4.
Hori TAC – Keypad and Mouse: $115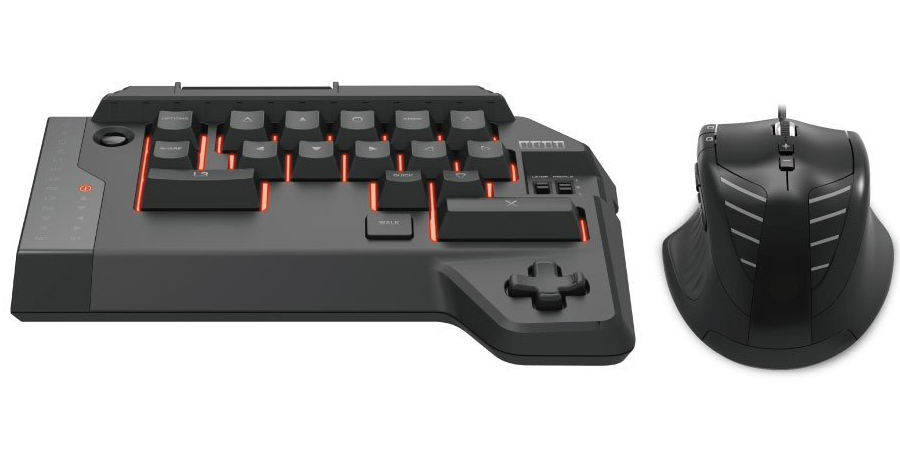 I like the look of this setup more than the Hori TAC Pro, but from the Amazon reviews the mouse movement can feel clunky. This may be the exact setup as the Hori TAC Pro, but as of right now there isn't enough information to confirm this. You will have less input lag with this device then with the Xim 4, but so few people complain about input lag that I still think the Xim4 would be better than this setup.
Mayflash Max Shooter ONE Mouse Keyboard Converter: $49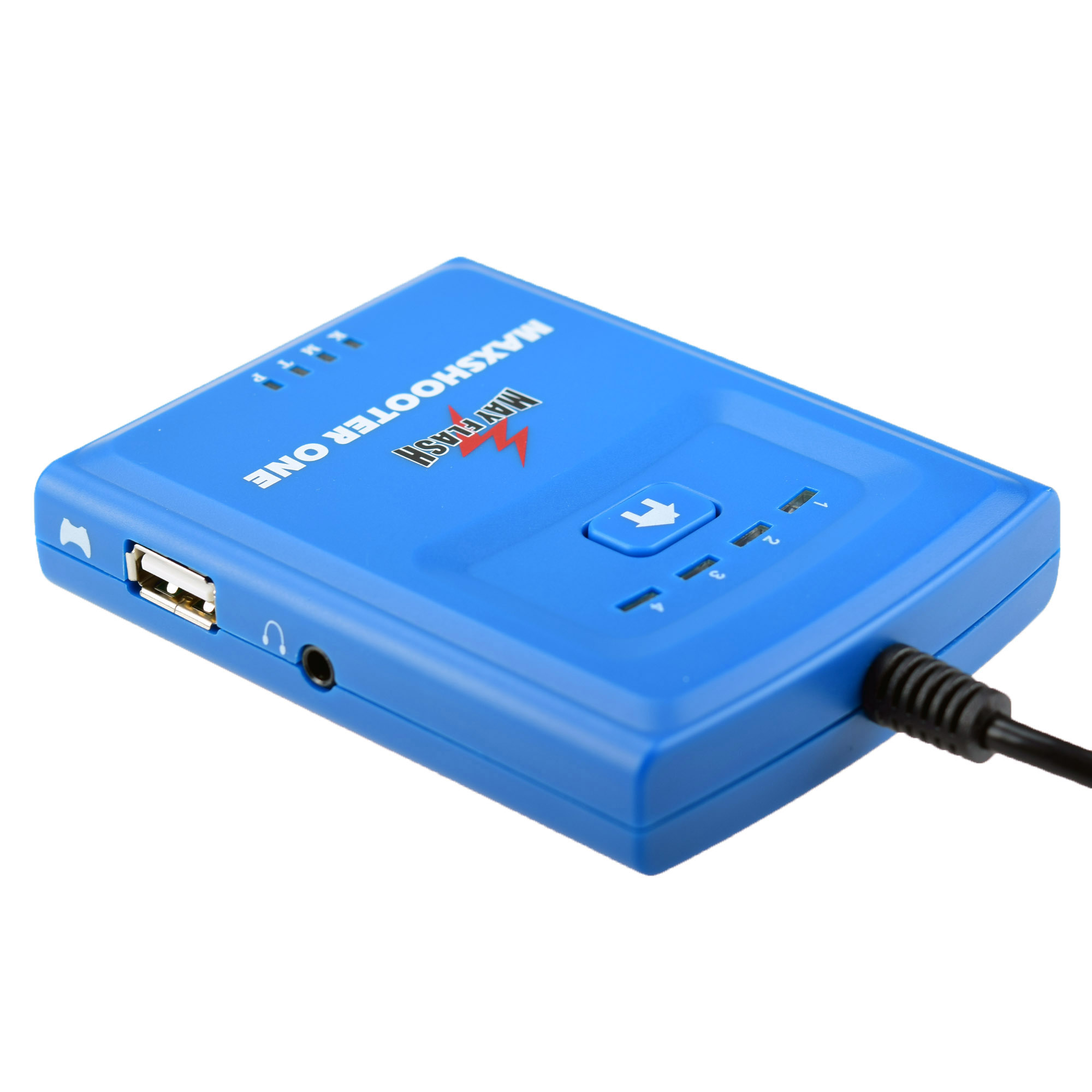 This is similar to the Xim4, but with less features and worse quality. The main complaint about this adapter is the time it takes to configure everything in order for it to work the way you desire. This device will most likely feel clunky and maybe even "laggy" right out of the box. It will take some serious configuration to bring it up to par with the feeling of playing on PC. I feel that if you want to use keyboard and mouse and have the time to perfectly configure this device then I would give it shot.
CronusMax Plus Cross Cover Gaming Adapter: $59

Slightly more expensive and just as painful as the Mayflash to setup the CronusMax is listed last on my list of best PS4 controllers. However, after a bit of configuring you may find yourself with a nice edge over other players only playing with standard controllers.
If you think I missed a controller that I should add to the list please comment and I will add it to the list.